*figures based on FY2022 continuing operations

A High Performance Business

Integrity
We mean what we say and do what we say we will do, with respect for all concerned
Quality
Right first time, on time. Our products and services have enduring value to our customers
Agility
We adapt rapidly and cost effectively – in response to changes in the environment
The foundations for the current day Avingtrans were laid in December 2000 when it sold its operating business and became a non-trading business with £4m on deposit.
Starting in 2002, the Jenaer Group was "Pinpointed" and acquired, which consisted of Jena-Tec Inc., Jena Rotary Technology Ltd. and C&H Precision Finishers Ltd. With the addition of Boneham & Turner Spindles in 2003 the team at Avingtrans set about building, through operational improvement and integration, what became the largest precision machine spindle manufacturer in the UK. The business also had some early emphasis on the aerospace industry, in particular the C&H Precision Finishers business, which provided specialist finishing for aero-engine blades.
Continuing on the theme of precision engineering, the group acquired both Crown UK Ltd. in 2003 and Stainless Metalcraft (Chatteris) Ltd in 2004. Crown designs and manufactures housings and poles for roadside speed cameras, as well as equipment for railway signalling and motorway signage. Metalcraft is a producer of fabricated and machined products to major suppliers of diagnostic imagery and the global science community as well as a range of customers in the global energy markets. This acquisition marks the first step into the medical and energy markets.
In 2006, Avingtrans acquires a 75% interest in Sigma Precision Components Ltd. Sigma provides a range of services to the global aerospace and other high technology markets and with the benefit of customer commitment and investment support from Avingtrans, quickly established a 30,000 sq. ft. precision component manufacturing facility in Chengdu, China.
Focussing on the aerospace market, Avingtrans buys B&D Patterns in 2006 and sets about integrating all its aerospace interests into a formidable aerospace components manufacturing and servicing division. The Aerospace division is further strengthened in 2012 by the formation of Sigma Composites Ltd. following the acquisition of Delta Composites Ltd., Alpha Composites Ltd. and Orion Machining Ltd.
Following successful improvements and investments over a ten year period, the JenaTec business is sold to Kuroda of Japan in 2012 for a cash consideration of £13.5m. The original cost of the division was roughly £4m and marks the completion of the first significant and successful cycle of Pinpoint-Invest-Exit.
Continuing to "Invest" and grow the aerospace division, Avingtrans acquires Aerotech Tubes Ltd. in 2012 for £2m and takes ownership of the trade, liabilities and business assets of PFW UK Ltd.'s Farnborough site for £1.85m in the same year.
To build on the embedded energy business in Stainless Metalcraft, Avingtrans acquires the entire issued share capital of Exterran (UK) Ltd. for a cash consideration of £1 in 2013. The principal activity of the acquired business is the design, fabrication and installation of products for the global oil and gas market. The business was renamed Maloney Metalcraft Ltd.
With a clear focus on three principle markets, aerospace, energy and medical, Avingtrans continued to Pinpoint [struggling] businesses that would complement the existing portfolio and have their true value realised through clinical management action, improvement and integration. This is witnessed in 2014 when Avingtrans acquired the trade and certain business assets and liabilities relating to the manufacture of aerospace components from Tricorn Group plc's subsidiary, RMDG Aerospace for a cash consideration of £1.1m, excluding costs. This was closely followed in 2016 by the acquisition of Rolls-Royce's internal aerospace pipe manufacturing businesses in Nuneaton, UK and Xi'an, China for £3.5m.
With the successful creation of a formidable Aerospace Division, named Sigma Components, Avingtrans enters into an agreement in May 2016 to sell the business to Silverfleet Capital, as the final step in this Pinpoint-Invest-Exit journey. Sigma was sold for an enterprise value of £65m which after adjustment for debt and working capital and associated transaction costs, resulted in the Company receiving proceeds of approximately £52m (before escrow arrangements).
Continuing to develop its energy market portfolio, Avingtrans successfully acquires Hayward Tyler Group for £29.4m (excluding debt and costs) in August 2017. The business restructures into two Energy Divisions and one Medical Division, quickly adds the intellectual property and other assets from the Ormandy Group in early 2018, and is firmly into the investment and development stage of the latest cycle of Pinpoint-Invest-Exit. In November 2018, as part of an exercise to rationalise oil & gas assets, Avingtrans disposed of its Whiteley Read brand.
In parallel with the Energy market investment, the nascent Medical division is bolstered in 2017, by the acquisition of Scientific Magnetics Ltd., a manufacturer of cryogen free superconducting magnets for the MRI and NMR imaging markets. In 2018, the Medical division was further bolstered by the acquisition of Tecmag, Inc, a manufacturer of NMR, NQR & MRI instrumentation including nuclear magnetic resonance spectrometers and full consoles, system upgrades, and solid-state NMR / NQR probes.
In June 2019 the Group acquired Energy Steel & Supply Co. (Energy Steel) and Booth Industries (Booth).
Booth design and manufacture of blast doors and prefabricated fire and blast wall systems, fire doors (integrity and insulated), radiation shielding doors, acoustic doors, security doors, multi-performance and large bespoke doors. Booth's products are sold into a range of markets including offshore oil and gas, marine, rail and infrastructure, security and nuclear. Acquiring Booth Industries enables the Process Solutions and Rotating Equipment ("PSRE") division to expand its product and service offering and deepen its relationships with its existing customers.
Energy Steel & Supply Co. (Energy Steel) are an established manufacturer of machined products and components to the US civil nuclear power industry. Energy Steel will be integrated with Avingtrans' Hayward Tyler businesses, expanding its product offering, particularly in precision manufacturing and solutions for "orphan" OEM components for nuclear aftermarket.
On 29 January 2021, we acquired Magnetica Limited, an Australian medtech and engineering company which specialises in next-generation MRI technologies. The acquisition of Magnetica represents an important strategic step forward to accelerate the planned move up the value chain in what is a highly specialised and integrated, international medical-imaging market.
On 11 March 2021, we disposed of Peter Brotherhood Limited to Howden for a total consideration (enterprise value) of £35.0 million, which, after adjustment for debt and working capital, will result in the Company receiving net proceeds of approximately £30.6 million, before transaction costs.
On 1 December 2021, we acquired Transkem Plant Limited ("Transkem"). Post acquisition the Transkem's operations were moved to our Hayward Tyler Fluid Handling Limited site in East Kilbride. Transkem is well known for designing and manufacturing specialist mixers for the pharmaceutical, petrochemical, food and beverage industries. This fits neatly with Hayward Tyler Fluid Handling Limited's expertise producing pumps and valves, as well as our in-house mixer testing capabilities.
During FY22, we completed a £4.0m (11.9% shareholding) investment in Adaptix, an emerging medtech leader in the field of 3D X-ray equipment. The development paths of Magnetica and Adaptix are convergent, which enables both businesses to benefit from efficiency and cost gains, as well as optimizing the route to market – especially in orthopaedics.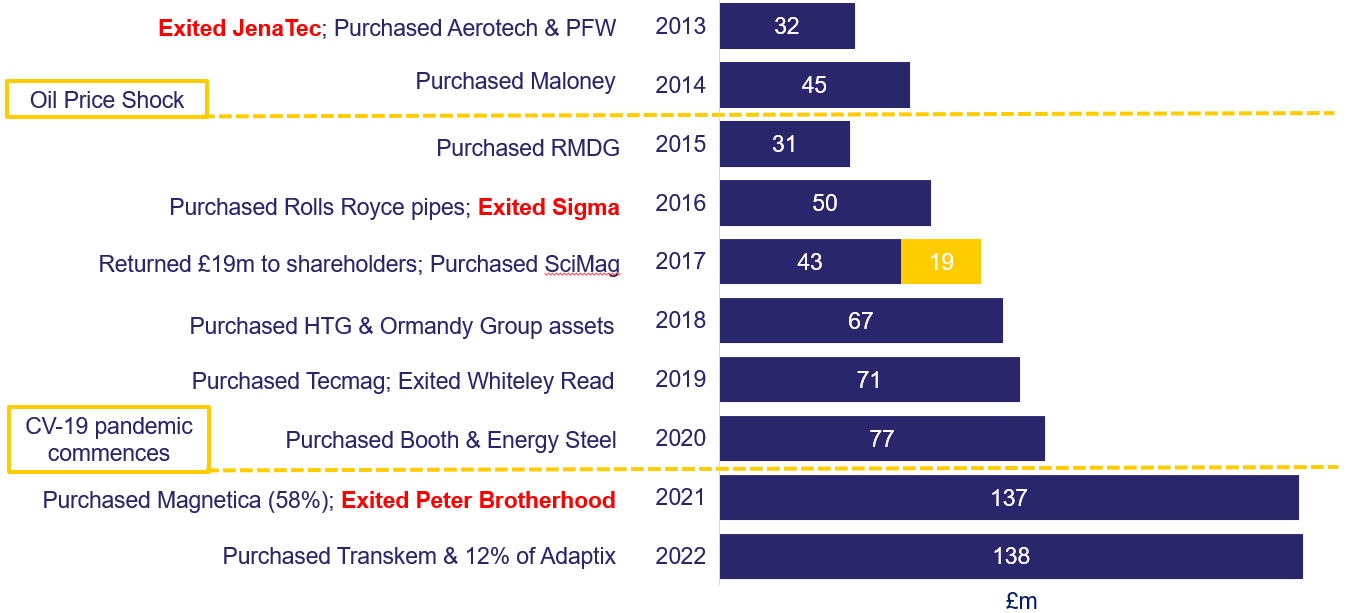 2012 (98p)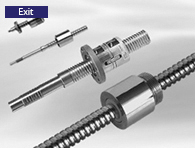 2016 (180p)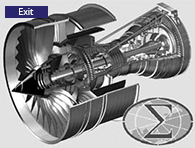 2017 (235p)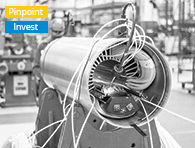 2019 (217p)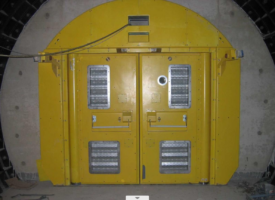 2021 (335p)